A Nigerian lady has taken to micro-blogging platform, Twitter, to disclose how she found out she was the only one in her relationship.
The lady, identified as @JemimaofCanada, said she was having a conversation with her boyfriend and told him she wanted to get married because she saw a beautiful wedding video online.
Her boyfriend responding to her desire to get married, said "her" wedding would be dope and memorable.
The lady who took the cue that her supposed boyfriend doesn't intend to marry her took to Twitter to announce that she's now single.
She tweeted,
"I said I want to marry and showed them the video that inspired me. They laughed and told me "your wedding go bang sha". The "they" here refers to the person I'm supposed to be dating. So I'm single now and focusing on myself."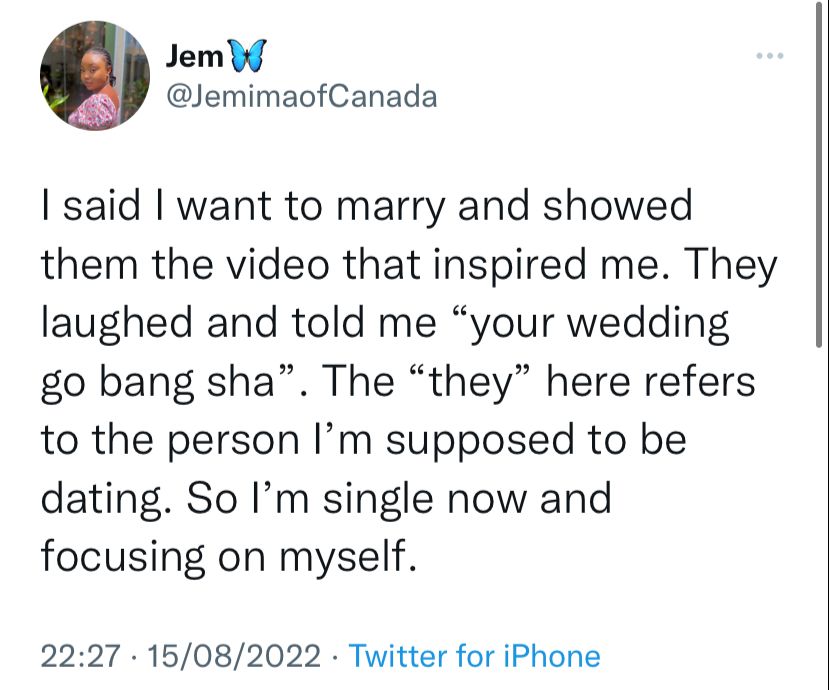 Her tweet has sparked different reactions online as netizens tried to console her, while others dug up pictures of the lady and her now ex-boyfriend and said that they looked together.
Apparently, the lady used to share loved-up pictures with her man on social media not knowing that he didn't plan to marry her.
See below,